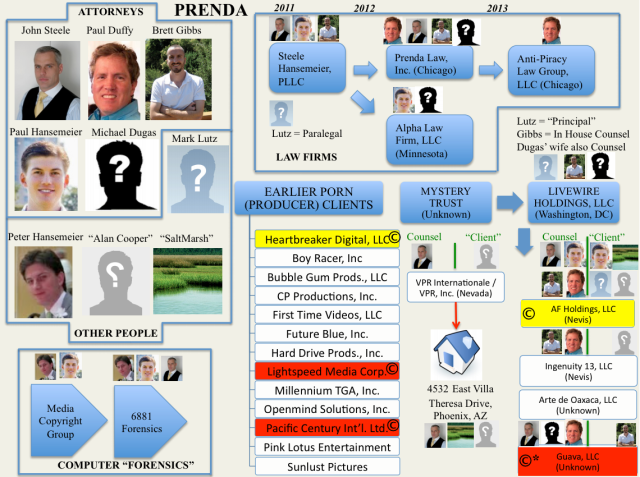 "Lost Vegas
WHO'S BEHIND PRENDA LAW?
Court will sanction Prenda lawyers if they don't appear April 2 (Updated)
Angry judge blasts porn trolls: "Someone has an awful lot to hide"
Judge "came in like a tornado" at Prenda Law lawyers
Second man says porn troll used his name without permission
Wordpress to fight "legally deficient and objectionable" Prenda subpoena
View all…
A federal judge has dramatically raised the stakes of an upcoming hearing on alleged misconduct by porn copyright trolling firm Prenda Law. The hearing, scheduled for Monday in Los Angeles, was originally slated to focus on the actions of Prenda attorney Brett Gibbs. But in documents filed last month, Gibbs denied wrongdoing, blaming all of his alleged misconduct on his superiors. So on Tuesday, US District Judge Otis Wright ordered seven additional people connected to Prenda to report to his courtroom and explain themselves."
Source and Full Post
http://arstechnica.com/tech-policy/2013/03/angry-judge-calls-porn-trolls-bluff-orders-entire-firm-to-court/
More on the Prenda Law Scandal
http://arstechnica.com/tech-policy/2013/03/angry-judge-blasts-porn-trolls-someone-has-an-awful-lot-to-hide
/
http://www.crystalcox.com/search?q=Prenda+Law
John Steele, Prenda Law and Marc Randazza, Randazza Legal Group Exploiting Children
http://www.ethicscomplaint.com/2012/10/marc-randazza-exploiting-children-marc.html